We welcome the AmeriCorps VISTA program to the Jewish Renaissance Family of Organizations (JRFO).
Our AmeriCorps VISTA team have proven themselves to be an invaluable asset to the JRFO, with Vista members serving at many of the sites within the organization. Their hard work and dedication to service has been essential in our mission to strengthen our community. 
What is AmeriCorps? See FAQs here.
---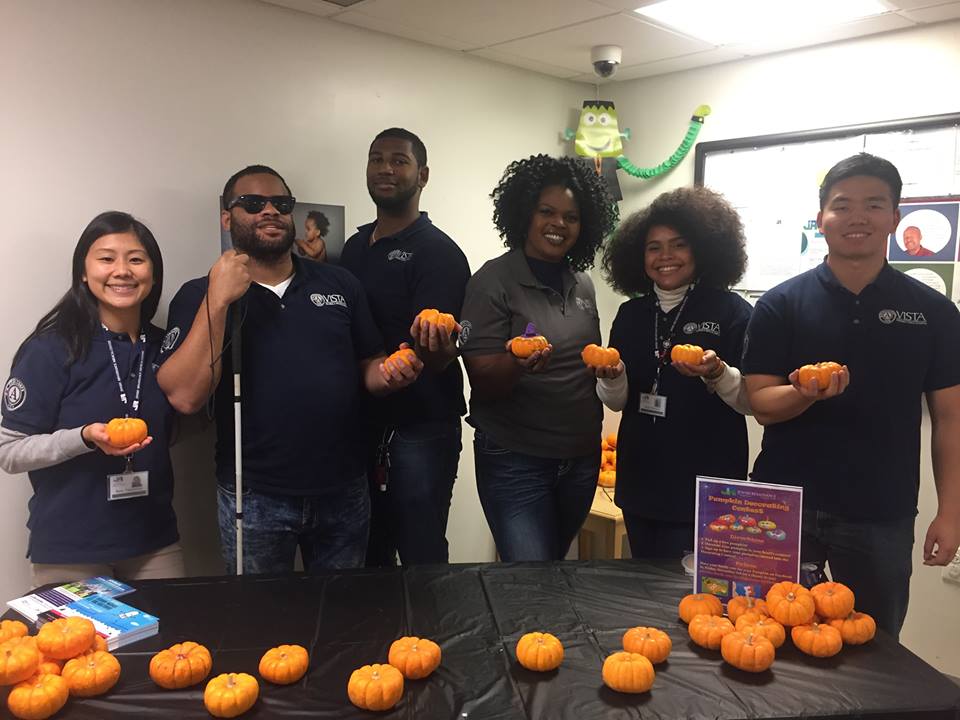 Meet the VISTAs
AmeriCorps VISTA Testimonials - Why did you join?
Former Vista Testimonials
Maximo Vazquez, AmeriCorps Vista 2016-17 (OECD)

"I thought it made sense mathematically: Add a year of service to subtract some of the problems from our community and multiply the potential of our peoples so we can divide and share our prosperity."

Derrel Murray, AmeriCorps VISTA 2016-17 (JRMC)

"To engage with the community and utilize my background in marketing to highlight and build upon the services that JRMC has to offer."

Joanne Lim, AmeriCorps VISTA 2016-17 (JRMC)

"To serve and give back to the community by using my knowledge and skills to implement quality healthcare services for medically underserved communities."

Alibell Marquez, AmeriCorps Vista 2016-17 (BGCPA)

"I joined Americorps VISTA because I wanted to do something worthwhile. This program allows me to bring forth my passion for helping others, enrich myself as a human being, strengthen the skills I have learned while in school and in everyday life, and give back to the community I was born and raised in."

Miriam (Mimi) Merkin, AmeriCorps VISTA Summer of 2017 (JRMC

"I joined AmeriCorps VISTA because I hope to better inform and engage the Perth Amboy community about JRMC services and programs. I am looking forward to utilizing and improving my skills in order to serve the community."

Amanda Tse, AmeriCorps VISTA 2016-17 (JRF)

"I became an AmeriCorps VISTA to return to my hometown and give purpose to my work as I develop my passion for a career in healthcare."

Mayra Aburto, AmeriCorps VISTA 2016-17 (JRMC)

"To increase my professional skills in order to be of the best service in educating and providing healthcare resources to my own community."

Scott James, AmeriCorps VISTA 2016-17 (JRMC)

"To join a cause dedicated to improving the health and quality of life of underserved communities in our country."

Aimee Ulep, AmeriCorps Vista 2015-16 (JRMC)

"To spend a year in service helping bring awareness to and fulfill the medical needs of people in economically and medically underserved communities."

Matthew Riedinger, AmeriCorps Vista 2015-16 (JRMC)

"To serve my country in a way I can give back to the community."

Valerin Ubri, AmeriCorps Vista 2016-17 (P.A.R.T.N.E.R)

"I joined AmeriCorps VISTA to continue with the great work that the Jewish Renaissance group is doing to help our community. This is my second year as AmeriCorps and my first as VISTA. Doing direct service had a great impact in my life and my thoughts about how I can help my community, and building capacity will be the base for those who are coming after."